040203 Pascha got his new girlfriend. Marmara Kiwi and Pascha had a lovely time and the
results; 8 healthy babies born 040406, 6 boys and 2 girls. Lots of photos under the information.
Click here for Pedigree: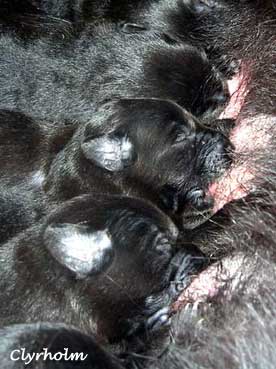 Dinner Time !
To see some more information or read more about Kiwi and the puppies,
please click on the banner below.
NUch DKUch LP SV-01
SV-02 NORDV-03
A-Te-Ell's Monsieur Pascha


RA LP
TęTe Noir Babil

RA
Rush du Loriers

SLCH LP
A-Te-Ell's Miss Vera

s.r. RA Bsg-00
Chili van't Belgisch Schoon

Re Jason de la Douce Plaine

HollCh RE
Gailly van't Belgisch Schoon

Marmara Kiwi

NordCh JV-99 JK2 Korad
Dubion Wroom

FinUch FinBch Korad
Valkohampaan Decameron

Valkohampaan Cit-Cat

Korad W-98
Marmara Galaxie

Int & Fin & Est & DkCh,
FinBCh Hk3 VK3 Korad s.r.
Valkohampaan Onyx

Korad Marmara Demeter