Me and Pascha - the LOVE of my life !!
Photos taken by Eija-Leena, 2011.10.02 in SkogŚs.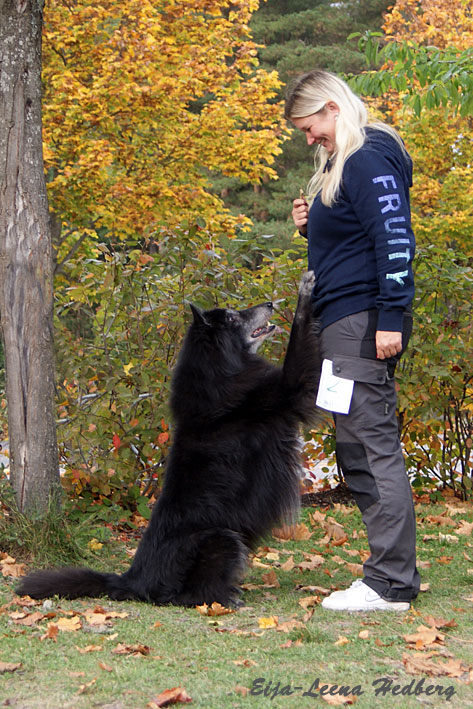 Photos taken by Madde, 2011.09.10 at SSBK.
Doing what I do best, shooting...
This time it's the B-litter puppies from A-Te-Ell 2009.
Thanks to Sussie Sandberg for this photo of me =)
Me shooting some agility on Gotland, June 2009
Nothing like a good glass of red wine...
Oh yes, and a cute puppy in your arms =)
Click to enlarge photos.

Hi Out There,
My name is Caroline, however to my friends I am Carro, so please, you must also call me Carro. For as long as I can remember animals of all kinds have been a major part of my life. For the moment I own two dogs, "Pascha"and "Virus", two cats, "Fluff" and Tuff", and one snake, "Masken.
At my fathers I have always had cats, namely Skrutten, Tjejen, Sascha and Nattis. At my mothers I have had dogs, cats and sometimes birds that we had rescued when they were injured, it would take far too long to list all their names here, but let me just say, all of them were very much loved.
When I was 10 or 11 years old we acquired two rats from my uncle, they were real terrorists these Rats and inflicted serious damage upon my entire room. For obvious reasons, they soon went back to the zoo. Besides rescuing birds, I also rescued a lot of frogs (at least that is what I thought I was doing!!!!!) and took care of them until I was absolutely sure they were fit and healthy enough to leave me and return to their life in the wild.


Later, when I was about 17 years old I bought myself two more rats, Beata and Agnes, Beata behaved much more like a dog than a rat. Perhaps Beata thought she was a dog, after all she walked on a lead, was toilet trained and held conversations with anyone who would listen. She followed me to my friends and to parties that I attended, and did some tricks and so on, much to my delight and that of my friends.
Unfortunately when Beata was only 2 years old she was struck down with cancer and sadly I had to put her to sleep. Agnes was very lonely so I bought her a new friend, Cissy, but tragedy struck once again and I had to have them both put to sleep one year later. This is the saddest thing of all when you own rats, they only live to (at the maximum) 4 years old, mostly just 2 -3 years old and then you have lost them forever.
I bought two cats, Marcus and Pigge, 1997 from a "Cat Rescue Center". At 1 year of age Pigge started to pee and shit all over the house. When we told him no, he looked at us as he really didn't know he had done anything wrong. After talking to the the Rescue Center we together decided to put him to sleep. Marcus was 5 years old the summer of 2002, and my luck (if it were not for bad luck, I might have no luck at all) still goes on. Marcus was an Epileptic, and had medication twice daily, and would do so for the rest of his life. I sadely took the decision to put him to sleep this summer, but he knew how much I loved him and I know how much he loved me.
Now I must Tell You About My Love For The Belgian Shepherd
It started with the Malinois puppy Xplorer, bought by my former boyfriend from a Kennel in Belgium. Actually this is not quite true; Xplorer was the first Belgian Shepherd I had owned, but I was already in love with the breed for many years.
Before Xplorer came along, Belgian Shepherds were beneath my feet from around the time I was seven years old, at my Motherís and Step Fatherís Groenendael kennel A-Te-Ell.
Xplorer has his very own site, please feel free to visit him, unfortunately what was meant to be a life full of fun and happiness never quite eventuated. Xplorer did bring us much joy and there will always be fond memories of the dog that didnít quite know who he was, and sadness was waiting just around the corner.
For reasons that we may never know or understand, Xplorer had no trust in most humans, we tried very hard to solve his problems and make him feel safe and secure.
No matter how hard we tried, we could never quite convince Xplorer that all would be well, and sadly at just eighteen months old we had to make the hardest decision of all, Xplorer is no longer with us, but perhaps now he feels safe and secure.
After all that had gone before I could so easily have given up on having another animal no matter what that animal was, but as the saying goes ďif you wait long enough your turn will comeĒ. Well I sure waited long enough but when my turn came it was so much better than I ever imagined.
In January 2000 my favourite Groenendael bitch ďChiliĒ, pedigree name RA s.r. BSG-oo Chili vít Belgisch Schoon, was to be mated, and can you believe it, to Babil, pedigree name RA LP Tete Noir Babil. Babil is a son of my favourite Groenendael male RA Rush du Loriers, my luck must surely be changing and I was sure only for the better. What else could it do, I was to have a male puppy from the litter, I thought what more could I want. Well my luck did change for the better and I have the proof.
On March 24th 2000 the pup that was to become my best friend, was born, his name is Pascha, pedigree name DKUCH NUCH NordV-03 SV-01 SV-02 LP A-Te-Ellís Monsieur Pascha. Believe me when I tell you, I have a full time job with this crazy man, he has endless energy for play and for work, he tricks me all the time and I wonder who really is The Boss.
However I donít wonder for too long as the answer may not be what I want, if you know what I mean. He has what we call the perfect Belgian on/off button Thank God, but the off button sometimes sticks, especially when it came to playing with Marcus, then it was simply an on and on button. Poor Marcus, I had to rescue him, he loved Pascha but not quite that much, Marcus also loved to get some sleep, so he could face Pascha again in the morning, no not really but that was what Pascha thought.
In the winter of 2003 I finally bought two cats to our home. Fluff and Tuff entered our lives and we have a LOT of fun and joy from them. Fluff is a bohemian, sits like a philosopher, thinking all day. Tuff (Tough) is a crazy soul that runs around all day and night, hunting toys, climbing furniture, attacking Pascha and Fluff and so on.....
In the summer of 2005, August 10:th) Virus came along. Virus pedigree name is A-Te-Ell's Monsieur Virus Niger and he is out of Marmara Kiwi and NUCH A-Te-Ell's Monsieur Savoy. Savoy's mother is Chili, Pascha's mother as well. So, Virus and Pascha are related. Maybe you can say that Pascha is "half uncle" to Virus =)
Well folks that is my story for now, please take a look around my site and donít be afraid to get in touch with me. Whether you have given me a good or bad critique it does not matter, I would like to hear from you, this is only chapter one.
Love Carro